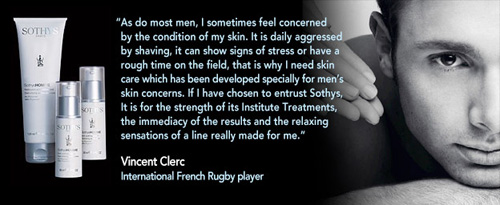 Show that you really love your father- Give him Sothys Skin Care products this Father's Day
When it comes to buying a gift for fathers day, most of us would skip a heart beat by seeing various high priced items show cased in the major gift shops. You could just grab a bottle of wine or a box of chocolates from a supermarket. Does that give a true representation of what specials days are all about? Due to recession and credit crunch you may be holding on to your wallet but there are creative ways to show your love for your father by thinking outside the box.Why not gift him a gift voucher so that your father can select his own gift, most of us are unaware of what our fathers want as we are stuck up with our office work and rarely spend time with our fathers.
Should I gift him a skin care Product?
Yes, why not its an awesome idea. When we reach 40 our skin becomes dry and dull.Age sports start to form on our face and in the back of the hands.At the age of 50 our skins stats to wrinkle and it worsens as we reach 60, our facial tissue becomes more sensitive to elements, our skin becomes thin and dry. A quality cleanser is better for your fathers skin than a soap.
An anti wrinkle cream is also a great option.You need to keep in mind three things before buying an anti wrinkle cream.The first one is to avoid products with cheap ingredients like the ones containing Synthetic waxes and mineral oils such as liquid paraffin and paraffin wax. They can harm your facial skin by clogging your pores and causing acne breakouts. All Sothys Skin Care products are noncomedogenic and they do not clog facial pores. No crude alcohol or animal extracts are used and if you are an animal lover then this information would also surprise you as Sothys products are never tested on animals.
The second fact to keep in mind is whether the products claim clinically proven results.Is effective and works? Some products claim to enhance skin elasticity by 42% in only 18 days and if its clinically proven then that could also work for your skin type.
The third fact is that you can search online and buy cosmetics from a reputable cosmetics company that operates online like Nefertari. Nefertari features a variety of  cleansers, serums, anti-aging treatments, and body balms from reputed brands. Why I prefer online shopping of cosmetics is that buying cosmetic products from department store are costly.They only feature cosmetic products of big brands.I've discovered that many excellent, reasonably priced cosmetic brands like Sothys are available here at Nefertari.com, and are shipped directly to our customers.
Gifting your father with a nice Sothys Homme Skin for skin and body collection along with a few natural grooming tools might be just the thing to put him on the path to smoother, softer, and healthier skin.He would appreciate that.And a few words about the price you have to pay in your shopping cart.
Just remember your younger days when your dad used to buy you items of your choice sometimes from an overpriced fair or mall. He never really cared about the price, he cared about you, your happiness. Sometimes you have to forget the price to bring joy in the faces of the ones you love.Gift certificates are available for all Néfertari products.we can you develop the perfect gift package for you this Fathers Day. I forgot to mention about The Men's Discovery Kit its selling at a 20% discount, plus the trial sizes are free gift-with-purchase. Its really a lovely fathers day gift. Check it Out at Specials.
Visit Our Website
Find us on Facebook
Follow us on Twitter
Watch us on YouTube