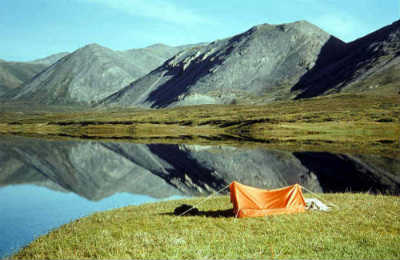 Camping beauty tips are very much about learning how to take an effective skin care routine that you always follow and make it easy for you to stick with it even when modern conveniences are nowhere to be found. Nefertari is all about advocating honoring the beauty that you naturally are and we'd like to teach you that this same beauty can be protected, even enhanced, as you get a little closer to nature this summer.
Although some people love camping in the midst of the snow, the hot weather is a signal to many that it's time to take a trip. Often that means grabbing the tent, the sleeping bags, and the cooler and heading to a great state park to set up camp. Have a lot of fun, but be serious when it comes to your skin care.
Be Sure to Keep the Following Camping Beauty Tips in Mind:
1. Remember to Pack Your Beauty Essentials
Following just about all of the other camping beauty tips becomes near impossible unless you follow this first one. its vital that you bring all of your beauty essentials along. This would include not only what you use to wash your face, but also moisturizer, toner, sunblock, and even special treatments like eye cream, face masks, skin serum, and the like. Most campgrounds have bathing facilities and even if you're doing primitive camping there'll still be a way for you to care for your skin. Being in nature is no excuse for letting your beauty go to the wolves, or throwing your skin care routine to the breeze.
2. Take Advantage of Travel Skin Care Kits
Some get a bit disheartened when they read that first tip. When they seek out camping beauty tips, they're looking for a way to travel light and efficiently. They don't think that's something packing all their beauty essentials will let them do, but that's the beauty of travel skin care kits. Travel kits for skin care are great for camping, hiking, and going on adventures in the wild. However, be sure to pick a nice one that is, one that comes complete with just about everything you'll need in order to properly take care of your skin while on this summer's camping trip.
3. Be Smart About Bug Repellant
Many consider bug repellent to be an essential piece of camping equipment. its quite understandable. It can also be a very important item when it comes to not only the beauty of your skin, but the health of your body because bug bites are one way that diseases and parasites are spread. The last thing you want is to come away from your trip having Lyme disease, yellow fever, and a belly full of parasites. However, you also don't want to pump your skin full of harmful toxins, which is exactly what many bug repellant call for you to do. Try natural bug repellant instead, especially when applying it directly to your skin. No matter what type of bug repellant you choose, be sure to wash it off intermittently in order to protect your skin from toxins and damage.
4. Remember the Importance of Sun Protection
Protecting your skin from harmful UVA and UVB rays has to be one of the most common camping beauty tips given out. Sun protection is actually something very important to do year round, whether indoors and out. If you're serious about your health and beauty, then you should already have a strong habit of applying SPF lotion. If you're not in the habit of it, this year's summer camping trip is a great time to start. Of course, right now is an even better time to start.
5. Let Nature Give You a Beauty Boost
There are many health benefits to being nature. there's nothing like the beauty of nature to help a person overcome stress. Camping among the trees gives your body to take in more fresh, pure air and a high level of oxygen. That oxygen can have a very beneficial effect on the health of your skin, so take some time to relax and breathe deeply. Camping is a great time and place to spend time practicing medication and breathing exercises. This is one of the camping beauty tips that not only benefits your body, but also your mind.
6. Observe Proper Swimmers Skin Care Guidelines
Going camping at the lake? Does the campground have a swimming pool that you plan on enjoying? Before going for a swim, whether in fresh water, pool water, or even chlorinated water, be sure to become familiar with what swimmer's skin care is all about. This might be one of the camping beauty tips that not everyone can use, but it's a very vital one for those who plan on swimming, even if for just one session.
7. Plan Ahead for Personal Hygiene
its not a good idea to assume all your personal hygiene need is going to be covered. Your skin care and hygiene is so important that it's better to have a backup plan and another plan to back up your backup plan than to assume, encounter problems, and allow your beauty to suffer for it. This means pack cleansing wipes and even a spray bottle of water if you have to. There may be showers, there may be a lake, but where your skin is at stake, don't take chances.
8 .Make Sure Your Get Enough Sleep
it's odd how so many people go on a trip thinking it will relax them but they end up coming home exhausted and sleep deprived. Even when on your trip, be sure to get plenty of sleep, even if there's tons of adventures to be had and you don't feel tired. Your skin can get tired and you may not even feel it, but if you don't get enough sleep you'll surely see the results of that later on. Many people won't find this to be a problem because the fresh air and the beautiful night sky makes it easy for them to fall asleep when camping.
9. Stay Moisturized In and Out
Hydration and moisture remain the cornerstone of proper skin care for all skin types. This is also one of the most essential and important camping beauty tips that can be given. Be sure to drink enough water. If you're having to pack your own water, then make sure to take more than enough. As well, don't forget to apply moisture to your skin. Depending on the type of moisturizer or lotion you use, you may have to re-apply several times throughout the day. that's why it's good to buy products that are high quality.
10. Let Your Skin Enjoy the Vacation
Summer camping trips are a great way for people to get away from the droll of every day life. it's smart not to quit on your skin care routine during this time, but do give your skin a break from makeup. Instead, let your pores enjoy that fresh air. If you must apply something, limit it to a bit of lip gloss and, if you must, mascara. you'll return home feeling and looking even more vibrant.